SnoMelt cables are industrial/commercial grade self-regulating heating cables that can be used for snow melting and ice prevention of surfaces such as concrete roads, ramps and paths. It may also be used on stairways, walkway gratings and loading docks. It can be cut-to-length on site to match exact lengths without any complicated design considerations.
SnoMelt will not overheat or burnout, even when overlapped upon itself, although this is not recommended. Its power output self-regulates in response to the surface temperature. Its self-regulating characteristics reduce energy usage and lowers operating costs.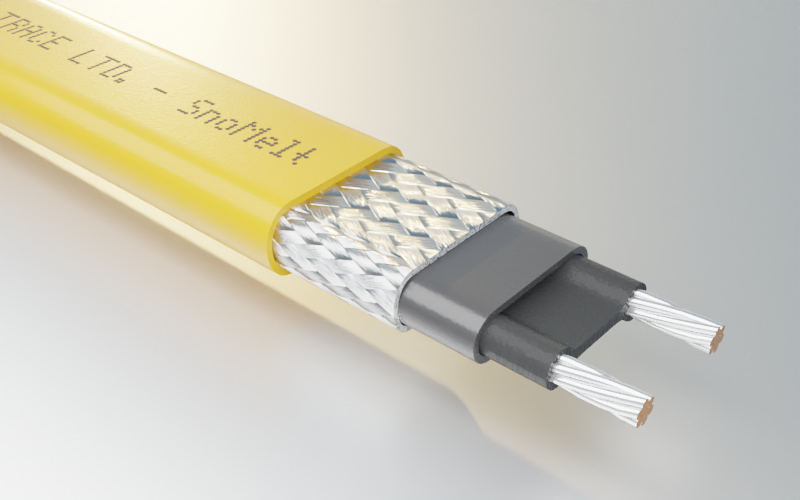 Ice prevention of concrete roads, ramps, and paths.

Can be used on stairways, walkway gratings or loading docks.

Can be cut to length
Simple installation in concrete.
Automatically adjusts heat output in response to increasing or decreasing surface temperature.

The installation of SnoMelt is quick and simple and requires no special skills or tools. Termination, splicing and power connection components are all provided in convenient kits.
SnoMelt Type SMB is ideally suited to large scale installations.

Product Specification - maximum withstand temperature 40°C (104°F)

Electrical heating cable for snow melting and ice prevention of roads, ramps and walkways. Available up to 277V AC/DC.




Maximum Surface Temperature

40°C (104°F)

Minimum Installation Temperature

-30°C (-22°F)

Power Supply

1-277 VAC

Cable Dimensions

15.4 x 6.5mm +/- 0.5mm

IP Rating

IP67

Minimum Bending Radius

40mm

Weight kg/100m

15.7 kg

Maximum Resistance of

Protective Braiding

18.2 Ohm/km

Cable Gland Thread Size

M25

Power Factor buried in Sand (wet)

W/m in concrete x 0.9

Power Factor buried in Metal Conduit

W/m in concrete x 0.4

Power Factor buried in Plastic Conduit

W/m in concrete x 0.3

Maximum Circuit Length (m) for various circuit breaker sizes

Product

Reference

Start-Up

Temperature (°C)

230V

6A

10A

16A

20A

SMB

10

14

22

36

44

0

12

18

30

38

For use with Type C circuit breakers to IEC 60898