G-Trace is a commercial/residential grade, self-regulating heating cable specifically designed to prevent snow and ice build up on roofs and in gutters. In snow and icy water the cable operates at full power. As the snow melts and the water drains away G-Trace self regulates to half power while it dries, as it gets warmer it gradually reduces its output. It can be cut-to-length during installation.
The G-Trace system is safe as self-regulation prevents overheating. It can even be installed directly into plastic gutters and with UV stable outer jackets the system is durable and reliable.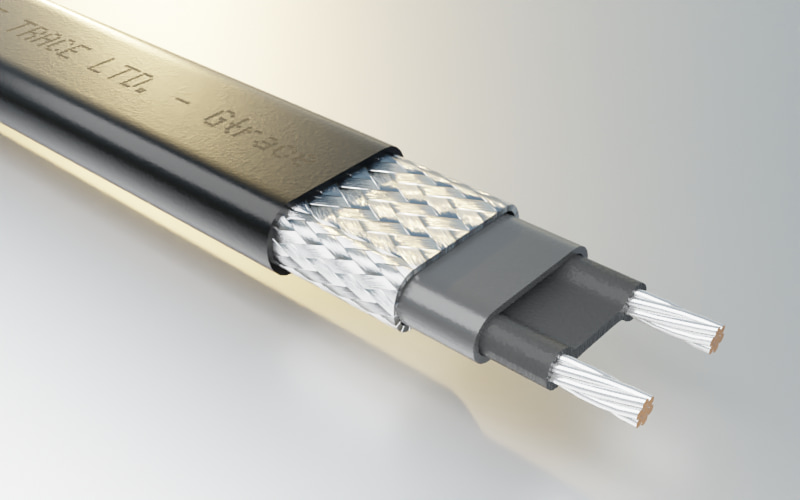 Protects roof and gutters from snow and ice build up.
For use on commercial or residential premises.
Can be cut to length
Can be installed directly into plastic gutters
Output self-regulates in response to ambient temperature
No overheating or burnout

G-Trace is available with a corrosion resistant thermoplastic outer jacket (GT) and when greater corrosion resistance is required with a fluoropolymer outer jacket (GT-F).

The installation of G-Trace is quick and simple and requires no special skills or tools. Termination, splicing and power connection components are all provided in convenient kits.
Product Specification - maximum withstand temperature 60°C (140°F)

G-Trace has a power output of 36 W/m in ice at 0ºC and 18 W/m in air at 0ºC. The thermal output of the cable is illustrated on the graph to the right. The graph shows the nominal power output at rated voltage.




Maximum Withstand Temperature

60°C (140°F)

Minimum Energised Temperature

60°C (140°F))

Minimum Installation Temperature

-40ºC (-40ºF)

Power Supply

1-277 VAC

Cable Dimensions

GT 12.95 x 5.95mm
+/- 0.5mm

GT-F 12.65 x 5.65mm
+/- 0.5mm

Minimum Bending Radius

GT - 40mm

Weight kg/100m

GT - 11.8 kg

GT-F - 12.6 kg

Maximum Resistance of

Protective Braiding

18.2 Ohm/km

Cable Gland Thread Size

M20

Maximum Circuit Length (m) for various circuit breaker sizes

Product

Reference

Start-Up

Temperature (°C)

230V

6A

10A

16A

20A

32A

GT

10

26

42

68

84

90

0

24

38

62

78

86

-15

20

34

54

68

80

For use with Type C circuit breakers to IEC 60898