MicroTracer (EMTS) is a constant wattage cable that can be used for freeze protection and temperature maintenance of pipework and vessels. It has a maximum temperature of 200°C (392°F).

MicroTracer (EMTS) is particularly suited to refrigeration applications, small bore instrument lines or process pipework located in non-hazardous areas. MicroTracer (EMTS) is made from silicone rubber and as a result is very flexible and suited to applications where flexibility is important.
MicroTracer (EMTS) can be cut-to-length on site to match exact piping lengths without any complicated design considerations.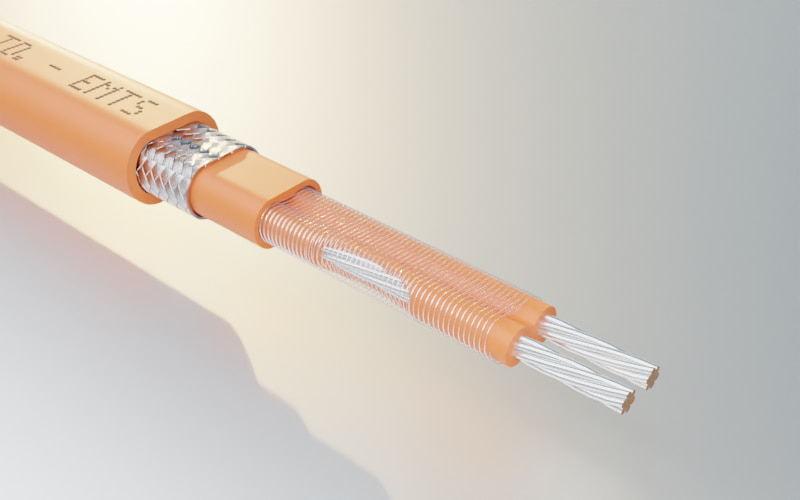 Process Pipework
Refrigeration
Small bore instrument lines
Can be cut-to-length
Available for 110V and 240VAC
Power outputs up to 50W/m
The installation of MicroTracer (EMTS) is quick and simple and requires no special skills or tools. Termination, splicing and power connection components are all provided in convenient kits.
Product Specification - maximum withstand temperature 200°C (392°F)

MicroTracer (EMTS) is available in 6.5, 13, 23, 33 and 50 W/m outputs as illustrated on the graph to the right. The graph shows the nominal power output at 230V when installed on insulated metal pipes.




Maximum Withstand Temperature

200°C (392°F)

Maximum Energised

Temperature

190°C (374°F)

see workpiece temperature data

Power Supply

110-120 VAC, 220-277 VAC

Cable Dimensions

EMTS-CS 11.4 x 8.2mm +/- 0.5mm

EMTS-CF 10.2 x 7.0mm +/- 0.5mm

Minimum Installation Temperature

-40°C (-40°F)

Minimum Bending Radius

EMTS-CS - 15mm

EMTS-CF - 25mm

Weight kg/100m

EMTS-CT - 14.3 kg

EMTS-CF - 14.3 kg

Cable Gland Thread Size

M20

Maximum Circuit Length (m)

Product

Reference

115V

230V

6.5 EMTS

82

164

13 EMTS

58

116

23 EMTS

44

87

33 EMTS

36

73

50 EMTS

30

59

For 10% drop variation

Maximum Workpiece Temperatures (°C)

Heater Nominal Output (W/m)

EMTS-C

EMTS-CS

EMTS-CF

6.5 EMTS

190

190

190

13 EMTS

180

185

185

23 EMTS

150

160

160

33 EMTS

110

115

115

50 EMTS

75

80

75

Surface temperature limits in acordance with EN50014