Freezstop Extra is an industrial grade self-regulating heating tape that can be used for freeze protection or temperature maintenance of pipework and vessels. It can be cut-to-length on site to match exact piping lengths without any complicated design considerations.
Freezstop Extra is approved for use in non-hazardous, and hazardous areas to worldwide standards. Its self-regulating characteristics improve safety and reliability.
Freezstop Extra will not overheat or burnout, even when overlapped upon itself. Its power output self-regulates in response to the pipe temperature.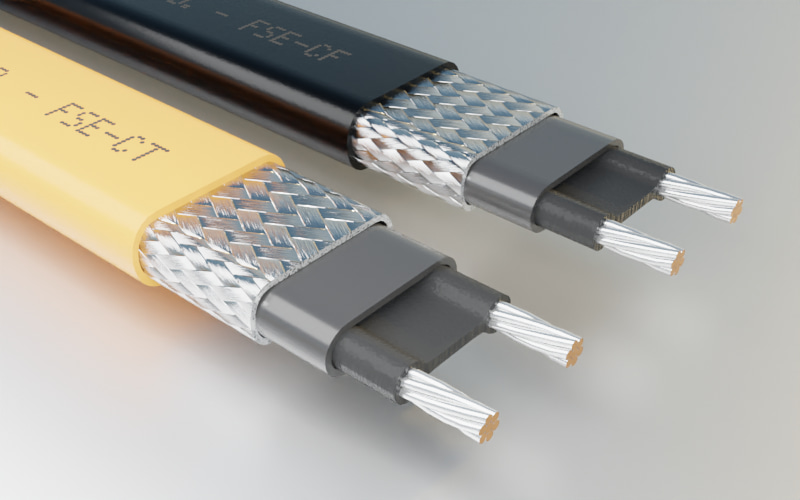 Freeze protection of pipework & vessels

Process temperature maintenance
Can be cut to length

Output self-regulates in response to pipe temperature
No overheating or burnout

Inherently Temperature Safe


Freezstop Extra is available with a corrosion resistant thermoplastic outer jacket (FSE-CT) and when greater corrosion resistance is required with a fluoropolymer outer jacket (FSE-CF).

The installation of Freezstop Extra is quick and simple and requires no special skills or tools. Termination, splicing and power connection components are all provided in convenient kits.
Product Specification - Maximum Withstand Temperature 100°C (212°F)

Freezstop Extra is available in 17 and 31 W/m outputs as illustrated on the graph to the right. The graph shows the nominal power output at 230V when installed on insulated metal pipes. Click on the graph to see a larger version.




Maximum Continuous Exposure

Temperature (Power ON)

100°C (212°F)

Maximum Permissable Exposure

Temperature (Power OFF)

100°C (212°F)

Minimum Operating Temperature

-65ºC (-85ºF)

Temperature Classification

Up to 31 W/m T4 (135°C/275°F)


Power Supply

12 - 277 VAC

Cable Dimensions FSE-CT

12.70 x 5.95mm
+/- 0.5mm

IP Rating

IP67

Minimum Installation Temperature

-40°C (-40°F)

Minimum Bending Radius

FSE-CT 35mm
FSE-CF 35mm

Weight kg/100m

FSE-CT - 12.4 kg
FSE-CF - 13.2 kg

Maximum Resistance of Protective Braiding

18.2 Ohm/km

Cable Gland Thread Size

M20




Maximum Circuit Length (m) for various circuit breaker sizes

Product
Reference

Start-Up
Termperature (°C)

230v
6A

10A

16A

20A

25A

17FSE










10

46

76

120

148




0

36

62

98

122

148

-20

24

42

66

82

102

-40

16

28

44

56

68

31FSE



















10

32

52

82

104

110

0

26

42

68

84

106

-20

16

28

46

56

70

-40

12

18

30

38

48

For use with Type C circuit breakers to IEC 60898

Approvals & Certifications