Rail heater type RHT is a parallel resistance, constant power output cable for use on main rail switch point systems, electrified 3rd rails, monorails
and tramway systems.
RHT is a cut-to-length cable designed to maintain snow and ice free systems to ensure track operational integrity in winter conditions. Simple and quick installation ensures minimum track possession time.
When used for point heating systems RHT is intended to be pre-terminated in 3m; 4m; 5m & 6m heated lengths to suit the turnout dimensions. It is suitable for direct replacement of existing strip heaters on the stock rails and switch rails.
The cable is designed to utilise rail industry standard and approved heater retaining clips. Thermally insulated capping is also available if required.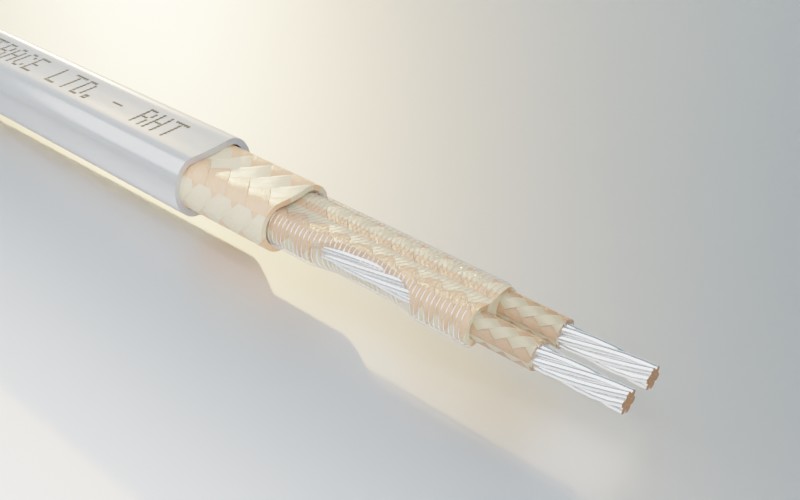 Freeze protection of:
Rails
Switch points
Tramways
Monorails
Can be cut-to-length to suit switch size
Heated lengths up to 6 meters for turnouts
Power outputs up to 220W/m

Full range of controls & accessories available
Available for 115 & 230VAC (nom)
Voltages to 1000V AC or DC for 3rd rails
Accessories
Heat Trace supply a complete range of rail heater accessories: termination components, c/w remote end seal and sealant; EPR cold lead to heater
power connection kit; EPR 2 core cold lead cable; thermally insulated capping; heater retaining clips; termination, installation and testing instructions.
These items are recommended for the correct usage and operation of RHT heaters.
Product Specification - maximum withstand temperature 350°C (644°F)




| | |
| --- | --- |
| Maximum Exposure Temperature Continuous | 350°C (644°F) |
| Maximum Exposure Temperature Intermittant | 425°C (797°F) |
| Minimum Installation Temperature | -65°C  (-85°F) |
| Power Supply | 230 or 115 VAC (nominal) |
| Dimensions (mm +/-0.5) | 10.0 x 7.0 |
| Minimum Bending Radius | RHT - 25mm |
| Weight kg/100m | RHT - 16.5 kg |
| Cable Gland Thread Size | RHT - M20 |

Maximum Circuit Length (m)

Output

Max. Circuit Length*

Zone Length (nom)

(W/m)

115V

230V

115V

230V

100

16m

32m

Zone lengths can vary.

Contact Heat Trace

for more information.

150

13m

26m

220

11m

22m

*For 10% end-to-end power output variation

Power Conversion Factors

| 115V Heating Cable | 230V Heating Cable |
| --- | --- |
| 277V multiply output by 5.80 | 277V multiply output by 1.45 |
| 230V multiply output by 4.00 | 240V multiply output by 1.09 |
| 208V multiply output by 3.27 | 220V multiply output by 0.91 |
| 120V multiply output by 1.09 | 208V multiply output by 0.82 |
| 110V multiply output by 0.91 | 115V multiply output by 0.25 |