FailSafe Super is an industrial grade self-regulating heating cable that can be used for freeze protection or temperature maintenance of pipework and vessels up to 225°C. It can be cut-to-length on site to match exact piping lengths without any complicated design considerations.
FailSafe Super is approved for use in non-hazardous, and hazardous areas to worldwide standards. Its self-regulating characteristics improve safety and reliability.
FailSafe Super will not overheat or burnout, even when overlapped upon itself. Its power output self-regulates in response to the pipe temperature.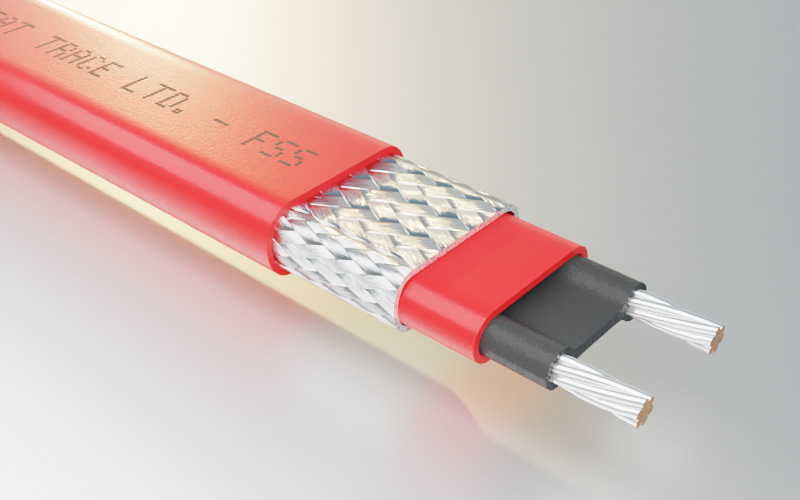 Freeze protection of pipework & vessels

Process temperature maintenance

Can be cut to length

Output self-regulates in response to pipe temperature
High outputs to 75W/m at 10ºC

Inherently Temperature Safe

FailSafe Super is available with a corrosion resistant fluoropolymer outer jacket (FSS-CF).

The installation of FailSafe Super is quick and simple and requires no special skills or tools. Termination, splicing and power connection components are all provided in convenient kits.
Product Specification - Maximum Withstand Temperature 225°C (437°F)

FailSafe Super is available in 15, 30, 45, 60 and 75 W/m outputs as illustrated on the graph to the right. The graph shows the nominal power output at 230V when installed on insulated metal pipes.




Maximum Continuous Exposure

Temperature (Power ON)

225°C (437°F)

Maximum Permissable Exposure

Temperature (Power OFF)

225°C (437°F)

Minimum Operating Temperature

-40ºC (-40ºF)

Temperature Classification

15FSS - 60FSS T3 (200°C/392°F)


75FSS T2 (300°C/572°F)

Power Supply

12 - 277 VAC

Cable Dimensions

FSS-CF 11.45 x 5.25mm

+/- 0.5mm

Minimum Installation Temperature

-40°C (-40°F)

Minimum Bending Radius

FSS- CF 35mm

Weight kg/100m

FSS-CF - 13.4 kg

Maximum Resistance of Protective Braiding

18.2 Ohm/km

Cable Gland Thread Size

M20




Maximum Circuit Length (m) for various circuit breaker sizes

Product
Reference

Start-Up
Termperature (°C)

230v

10A

16A

20A

32A

50A




15FSS













10

76

122

154

172

172

0

70

112

140

172

172

-20

62

98

122

172

172

-40

52

82

102

164

172




30FSS

 

10

52

82

102

122

122

0

46

74

92

122

122

-20

40

66

82

122

122

-40

34

54

68

110

122




45FSS

 

10

38

62

76

100

100

0

34

56

70

100

100

-20

30

50

62

98

100

-40

22

34

44

70

100




60FSS

 

10

30

50

62

86

86

0

28

44

56

86

86

-20

20

32

40

62

86

-40

12

18

24

38

60

75FSS

 

10

24

40

50

76

76

0

18

30

38

60

76

-20

14

22

26

42

66

-40

8

12

16

26

40

For use with Type C circuit breakers to IEC 60898