Contact Rail Heater (CRH)
The Contact or Conductor Rail Heater self-regulating heating cable has been specifically developed for contact and 3rd / live rails operating up to 750 volt DC systems. Contact Rail Heater is designed to maintain the operational integrity of rail networks, ensuring contact rails are kept clear of snow and ice during adverse weather conditions.
Contact Rail Heater is supplied in single lengths up to 178 metres and fitted with 1.5 metre pre-terminated cold lead with remote end seals. It is suitable for direct replacement of existing contact rail heaters and will intergrate with the majority of contact or live rail heating systems. The heater is held in place on the rail using protective GRP channel or angle section and purpose made heavy duty rail clips.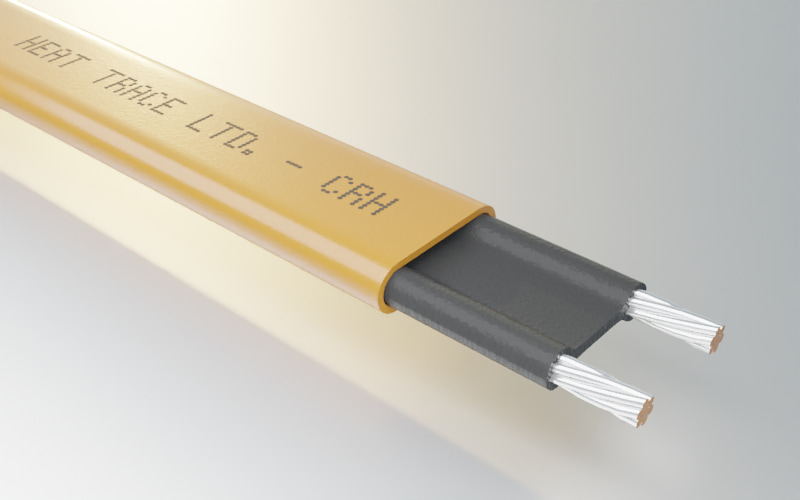 Ice prevention of contact rails on rail networks.

Ice prevention of 3rd / live rails.

Can be cut to length
Simple installation causing minimum disruption to rail traffic.
Automatically adjusts heat output in response to increasing or decreasing surface temperature.

Contact Rail Heater cables and system components are suitable for withstanding the hazards of a rail environment - such as severe and continuous vibration due to rail traffic, immersion in icy water, snow, weed killer formulations, diesel oils, lubrication oils, oxalic acid and de-icing fluids. Contact Rail Heater cables are able to operate in "free air", totally or partially, without affecting the working life of the heater.
The installation of Contact Rail Heater is quick and simple and requires no special skills or tools. The fitting of new or replacement heaters can be carried out quickly and easily with minimum track possession time required causing minimum disruption to rail traffic.
Product Specification - maximum withstand temperature 250°C (482°F)

The graph on the right shows the nominal power output at 600V on a rail.




Maximum Withstand Temperature

250°C (482°F)

Maximum Energised Temperature

250°C (482°F)

Minimum Installation Temperature

-40ºC (-40ºF)

Power Supply

up to 1000 Volts (AC or DC)

Power Output (nominal)

up to 130W/m

Cable Dimensions

13.6 x 4.8mm +/- 0.5mm

Minimum Bending Radius

40mm

Weight kg/100m

15.7 kg

Maximum Resistance of

Protective Braiding

18.2 Ohm/km

Cable Gland Thread Size

M25

Maximum Circuit Length (m) for various circuit breaker sizes

Product

Reference

Start-Up

Temperature (°C)

230V

16A

20A

32A

50A

90CRH6

0

84

104

166

208

-10

68

84

136

208

-20

56

72

114

178

For use with Type C circuit breakers to IEC 60898