Power Limiting Heating Cable (PL-AHT)
Electrical heating cable for process temperature maintenance of pipework and vessels in safe or hazardous areas
Can be cut-to-length.
Available for 110-120VAC and 220-240VAC.
Power outputs up to 80W/m.
Intermitant withstand temperature 500ºC
Reduced start-up current.
Suitable for use in safe, hazardous and corrosive areas.
Continuous aluminium outer-jacket.
1m pitch standard heating zone.
Full range of controls and accessories available.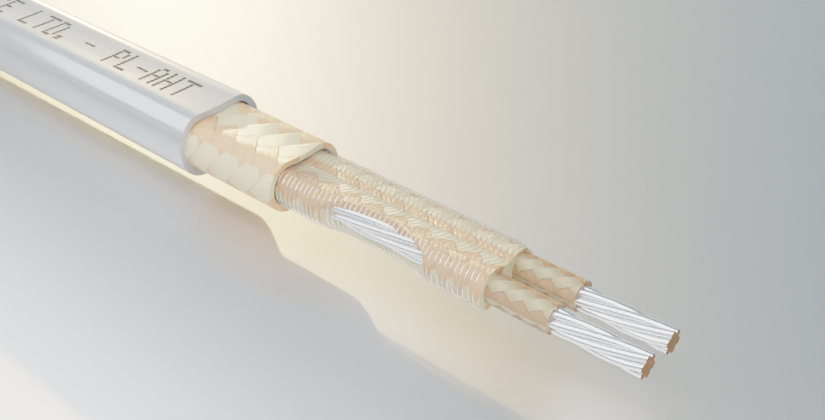 POWERHEAT Type PL-AHT is a power limiting heating cable that can be used for freeze protection or temperature maintenance of process temperatures in pipework and vessels.
It can be cut-to-length at site and can replace mineral insulated (MI) cables for applications where the cut-to-length feature, or field fabricated heating cable is preferred.
PL-AHT will be approved for use in non-hazardous and hazardous areas to world wide standards.
The power output of PL-AHT reduces with increasing temperature due to the PTC effect of the heating resistor. This results in a lower startup current when compared with AHT/CW constant power cables.
The installation of PL-AHT heating cable is quick and simple, and requires few special skills or tools. Termination and power connection components are all provided in convenient kits.
PL-AHT is jacketed in a continuous aluminum extrusion for maximum mechanical strength.
Product Specification




| | |
| --- | --- |
| Maximum Exposure Temperature | 500°C (932°F) |
| Minimum Installation Temperature | -40°C (-40°F) |
| Minimum Operating Temperature | -65°C (-85°F) |
| Power Supply | 12-277 VAC |
| Cable Dimensions | PL-AHT 10.7 x 7.7mm +/- 0.5mm |
| IP Rating | IP67 |
| Minimum Bending Radius | PL-AHT - 25mm |
| Weight kg/100m | PL-AHT 16.5 kg |
| Cable Gland Thread Size | M20 |
| | |