One Trace-i is an all in one cable for frost protection and temperature maintenance applications in the commercial and industrial markets.
One Trace-i is a self-regulating heating cable specifically designed to be used within several environments, including: air, water/ice, metals pipes/surfaces (insulated), plastic pipes or embedded within concrete, soil or sand.
One Trace-i is a new developement by Heat Trace Ltd to overcome power loss due to thermal cycling and ageing. This new technology is an upgraded product, the cable construction consists of integrated conductors to achieve longer life expectancy through improved matrix contact with age.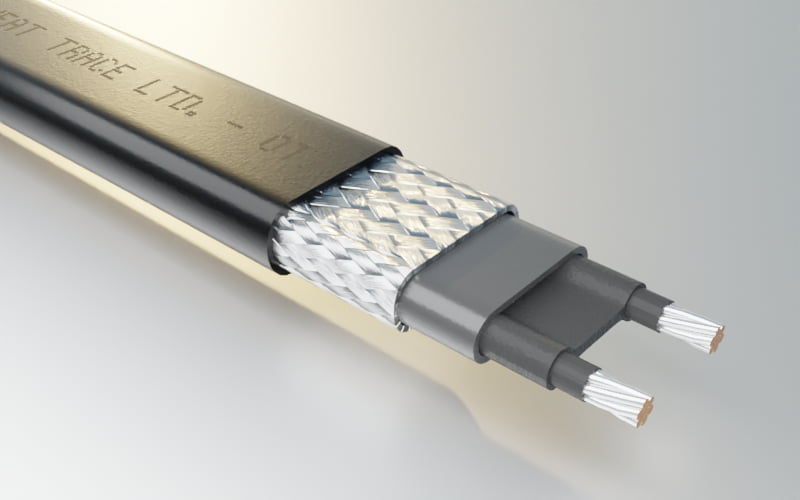 Freeze protection of pipework

Soil Warming

Roof and Gutter
Can be cut to length
Integrated conductors
Cable jacket is UV resistant
Longer life expectancy

One Trace-i is inherently temperature safe with its self-regulating properties preventing overheating. It has a UV stable and corrosion resistant fluoropolymer outer jacket, this system is durable and reliable.

The installation of One Trace-i is quick and simple and requires no special skills or tools. Termination, splicing and power connection components are all provided in convenient kits.
Product Specification - maximum withstand temperature 60°C (140°F)




Maximum Exposure Temperature

60°C (140°F)

Minimum Installation Temperature


-40°C (-40°F)

Minimum Start Up Temperature

0°C (32°F)

Power Supply

12-277 VAC

Cable Dimensions

OT-i 9.7 x 5.1mm +/- 0.5mm

IP Rating

IP67

Minimum Bending Radius

OT-i - 35mm

Weight kg/100m

OT-i 11.6 kg

Maximum Resistance of

Protective Braiding

18.2 Ohm/km

Cable Gland Thread Size

M20

Maximum Circuit Length (m) for various circuit breaker sizes

Environment

Start-Up

Temperature (°C)

230V

6A

10A

16A

20A

25A

Air

0

58

96

116

-

-

Ice/Water

0

18

32

50

62

66

Metal Pipe/Surfaces
( Insulated )

0

40

66

96

-

-

Plastic Pipe

( Unfoiled & Insulated)

0

46

78

102

-

-

Embedded

( Concrete/Soil/Sand)

0

22

38

60

72

-

For use with Type C circuit breakers to IEC 60898