Nurturing the Next Generation of Talent
Heat Trace are committed to nurturing the next generation of talent through our apprentices. Our apprenticeship scheme enables us to grow our own talent, across all areas of the business, ensuring we develop skilled individuals equipped to meet the needs of the business, both now and in the future.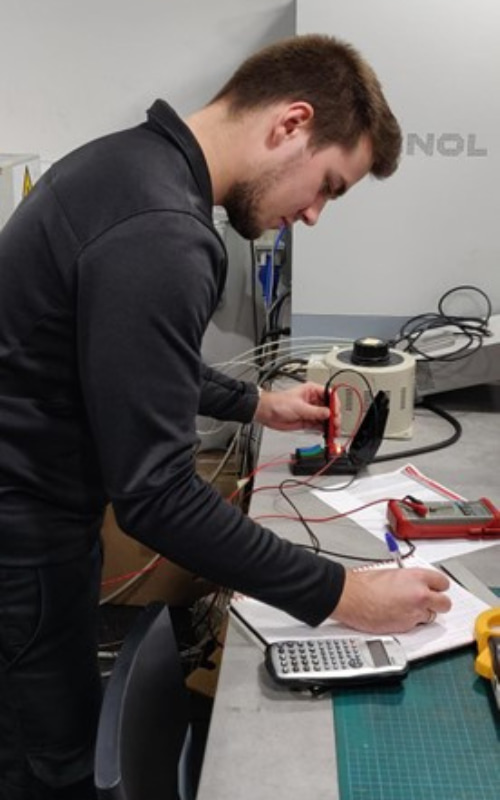 Jake Lloyd, Quality Control Engineer Apprentice
We are once again rolling out our successful Apprenticeship Scheme, working with partners Warrington and Vale College at our Helsby site, and Stegta at our Bredbury sites.
Nicky Fletcher, Heat Trace HR Manager says "Apprenticeships equip you with the relevant skills for your department within the business and allow you to gain work experience whilst earning a wage and going to college too. At Heat Trace we see our apprentices as the next generation of talent, developing skilled team members to take our business forward."
Following an assessment day, held at our Helsby Facility, we secured Jake Lloyd for our Quality Control Engineer Apprentice vacancy. Jake joined Heat Trace in September 2022, combining studying at Warrington & Vale College 2 days a week and hands on training in both the factory and office for 3 days, under the direction of Mark Taylor, Head of Quality Assurance. Jake will learn a variety of skills, both electrical and mechanical, in a workshop environment at college and in the factory.
The Level 3 technical knowledge certificate that Jake will study includes; Mathematics and Further Maths for Engineering Technicians as well as Electrical & Mechanical Principles. On average this is a 3 year course and can lead on to a Level 4 Engineering Apprenticeship to further skills and knowledge.
Mark Taylor is Head of Quality Assurance at Heat Trace: "Jake will work his way through our various production areas, He will be trained in all the production processes and the products that Heat Trace offers. This will give Jake a full rounded understanding of the Production side of the business."
Jake is already testing our Self-reg cables both in the chamber and on the pipe rig.
Says Jake "I am very proud to be an apprentice at Heat Trace, everyone here is friendly and always eager to help whenever and wherever they can, on my first day I was met with smiling faces and a very healthy working environment, I cannot wait to progress further. The education provided by Heat Trace is exceptional, on my first day at the college I was once again met with smiling faces and an excellent team to guide me through my apprenticeship".
The plan of action for Heat Trace is to expand our scheme with a Level 2 Apprenticeship at our Cromwell Road site in Bredbury next year.